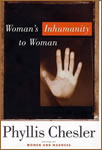 Phyllis Chesler, Ph.D.
Summary:
This best-selling author and renowned psychologist needed increased firepower in promoting the March 2002 release of Woman's Inhumanity to Woman, a book that spanned 20 years of research on 5 continents. She was a celebrated feminist and prolific author with a stellar track record. Her first book, Women and Madness sold 3 million copies in 1972 and was still used as a textbook for college courses in women's studies. We jumped in and made things happen.
Strategy:
By the Spring of 2002, there was tough competition in the marketplace—Odd Girl Out, Catfight, Queen Bees and Wannabees and The Quarterlife Crisiswere
all in circulation. We positioned Chesler's work as the scholarly, comprehensive book of choice. We drew on her reputation as a respected veteran feminist and thought-leader for over 30 years. This angle enabled us to win her more serious consideration in articles and in TV bookings.
Results:
Chesler was quoted in a very substantive round-up article by Katy Kelly in U.S. News and World Report and also received broad coverage in scores of major dailies throughout North America and even in South America and Europe. After booking her for an appearance on Fox News Network's The O'Reilly Factor and on CNN International, Chesler jumped to the #1 position on Amazon's Women's Studies and Sociology lists. A story in the New York Times on August 24, 2002 pushed her ahead of the competition in sales. PBS's To the Contrary decided to book her for an interview after seeing that article.