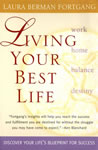 Laura Berman Fortgang
Summary:
Laura Berman Fortgang, a founding board member of the International Coach Federation and one of America's leading career and life coaches, was looking for a spike in book sales for the trade paperback release of Living Your Best Life (Tarcher/Putnam May 2002).
Strategy:
Working closely with the International Coach Federation, we organized a national 10-city tour in which Fortgang could lead day-long seminars for certified coaches and the general public. We worked to position Fortgang as a source for a wide range of stories on career and life changes, many of which were tied to post-9/11 transitions and the current edgy economy.
Results:
Laura Berman Fortgang was featured in USA Today (6 times), Gannett news service, the Chicago Tribune, Redbook, First for Women (3 times), O'Dwyers, and on CNNfn. The biggest response came from a short Q&A in USA Weekend featuring Soledad O'Brien, anchor of NBC's Weekend Today Show. Soledad was a big fan of Living Your Best Life and mentioned it in the article. That story created so much demand for the book that Barnes and Noble called the publisher to find out why a thousand new requests had flooded in within 24 hours! Fortgang was recently chosen to be a spokeswoman for Bell South's new 18-city satellite tour to discuss how technology can help to simplify life. On December 31, 2001 she appeared on CBS's The Early Show. In 2003, she starts as a regular columnist on Redbook's "Stress Free Zone" page.