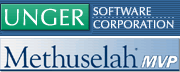 Unger Software Corporation
Summary:
Unger Software Corporation, located in midtown Manhattan, is a leading provider of cutting-edge financial analysis software for financial industry professionals. Their flagship product, Methuselah MVP, enables financial professionals to explore a wide array of analytic options and the latest tax implications for their clients. This is accomplished seamlessly through vivid color graphs and spreadsheets that update on-screen in real time as each scenario is explored. Methuselah MVP accelerates the analytic process by performing complex calculations instantly.
Strategy:
We launched an aggressive media relations campaign for Unger beginning in November of 2000 to distinguish them from other software tools used by financial advisors. In approaching trade publications in the financial planning, insurance and banking sectors, we emphasized the unique real-time updating features of Methuselah along with Unger's outstanding customer support. We regularly announced product refinements as well as strategic licensing agreements and joint venture partnerships to targeted media.
Results:
Product reviews and features on Unger appeared regularly in Accounting Technology, On Wall Street magazine, Accounting Today, Senior Market Advisor, Financial Planning, Lifeseller.com, Investment News, Registered Representative, FutureBanker, Bank Investment Marketing, Bank Marketing, The Practical Accountant, CPA Software News, Private Equity Week, Pension and Investments Newsletters and Electronic Accountant. Our efforts helped to seal Unger's agreement with AXA Advisors, LLC, a leading provider of financial services for consumers and businesses. Our media placements also helped set the ground for a joint venture with Aspen Publishers, a 40-year-old publishing firm with more than 400 journals, newsletters, electronic products, and manuals–and over 1,000 books in print for the financial advisor industry.