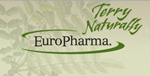 Europharma USA
Summary:
Founded by natural products industry icon Terry Lemerond, Europharma-USA, needed a strategic push to highlight the company's unique Terry Naturally branded products, especially those containing the blockbuster anti-inflammatory and analgesic ingredient BCM-95 curcumin. Lemerond is renowned for introducing numerous "firsts" to the U.S. health market, including Ginkgo Biloba, stabilized Glucosamine Sulfate, botanical standardization, and promoting St. John's Wort and Saw Palmetto Berry, which are now popular ingredients in the marketplace.
Strategy:
We focused on the published research behind Terry Naturally's products containing BCM-95 including a study that showed the ingredient to be up to 10 times better absorbed than plain curcumin and also maintained in the blood stream at a therapeutic range much longer. Another study, presented at Osteoarthritis Research Society International (OARSI), showed BCM-95 curcumin and Bos-Pure boswellia to be as effective as Celebrex for pain relief but without the harmful NSAID side effects.
We publicized a program of educational podcasts featuring thought leaders in natural medicine to inform retailers and the public of latest advances including BCM-95 curcumin and also Vectomega, the most significant omega-3 breakthrough in 40 years.
Results:
Webinars with experts included Ajay Goel, Ph.D., Director of the Dept. of Epigenetics and Cancer Prevention at Baylor University Medical Center; Jacob Teitelbaum, MD, bestselling author of Real Cause, Real Cure; Jonny Bowden, Ph.D., CNS, author of The Great Cholesterol Myth; Holly Lucille, ND, author of Creating and Maintaining Balance; and Medicine Hunter Chris Kilham, Explorer in Residence at the University of Massachusetts, Amherst. These content-rich sessions heightened interest in Terry Naturally ingredients and products—exploding sales and winning top industry awards including: 2012 Better Nutrition Best of Supplements Award (5th consecutive year!); Healthy Living People's Choice 2012 Award; Taste for Life 2012 Essentials Award; 2011 Vity Awards Winner in three categories—Best Herbal Supplement, Best New Natural Supplement, Best New Natural Remedy; and the Wholefoods Natural Choice Award 2011. We were able to feature the brand in The Wall Street Journal, on Fox News, and more.