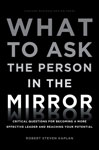 Robert Steven Kaplan
Summary:
Robert Steven Kaplan—Harvard Business School professor, chairman of the Draper Richards Kaplan Foundation, and former vice chairman of Goldman Sachs—is one of the business world's most respected voices on leadership. His first book, WHAT TO ASK THE PERSON IN THE MIRROR: Critical Questions for Becoming a More Effective Leader and Reaching Your Potential, was published by Harvard Business Review Press. We were hired to provide strategic guidance and coordinate marketing efforts between the publisher, their internal PR department, Goldberg McDuffie in New York City, and Miller Meiers Digital out of Kansas City.
Strategy:
We functioned as the guerilla marketing arm for the team and worked largely outside the box to create significant results.
Results:
Our creative strategies sold books! What to Ask The Person in The Mirror made it to #2 on the "800 CEO Read Top Ten Bestselling Business Books List" for the season. We offered Kaplan as a speaker for TED events, Aspen Ideas Festival, and he was a featured speaker at the Inc. Leadership Conference, which continues to invite him back. He became a columnist at Inc. magazine online and a blogger at Psychology Today. He was featured nationally in Rex Huppke's syndicated Chicago Tribune column "I just work here," and in Al Lewis' Dow Jones Newswires column, in a story titled "Words You Wouldn't Expect from a Goldman Guy." Kaplan appeared repeatedly on Bloomberg TV, CNBC, Fox News, Fox Business News, and First Business, as well as in Time magazine, to name a few.